The All-in-One for Bold Party Sound

A Dual Woofer, Super Bass Boost, and other fun features deliver big, powerful beats that take the party atmosphere up a notch.




Powerful Sound the Party Will Feel


LG XBOOM ON9 generates extra airflow behind the speaker unit to produce thumping bass that sparks any party into life.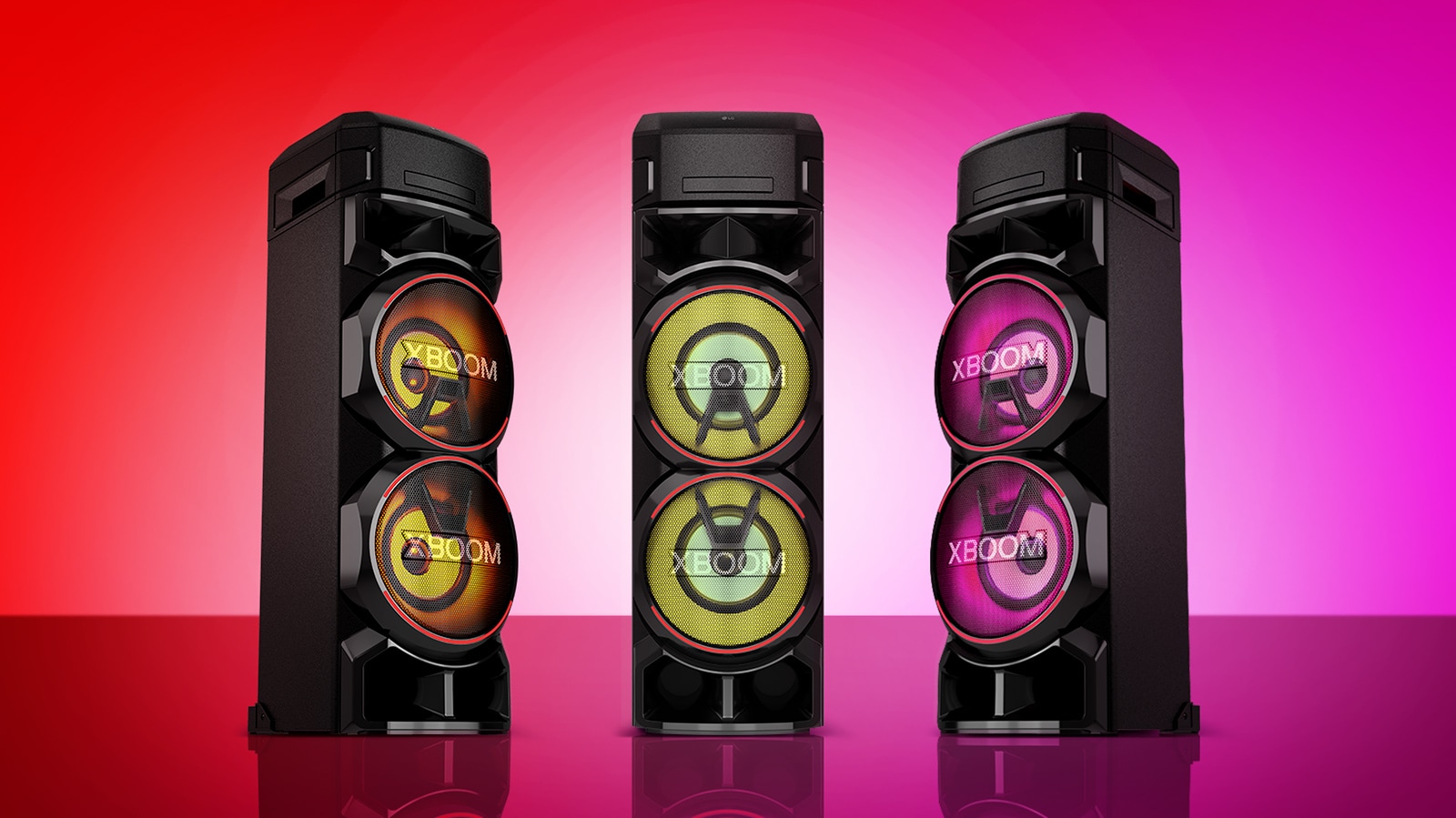 Light Up the Dance Floor
Multi Colour Lighting

Colourful LED lights vary and change with the rhythm of the beat to add more excitement to your parties.


Sync Your Smartphone with the Beat

Party Strobe

Shine a little more fun on the party. Connect up to three smartphones and hold them up as the rear light flashes in sync with the music.





Spin the Decks from the Dance Floor

DJ App

Get the party dancing. Apply sound effects straight from the DJ App on either Android or iOS, or control the DJ Pad on the speaker.
Sing It Loud and Clear


Adjust the music and microphone volume separately, reduce track vocals with the Voice Canceller, and tune the music to your voice with the Key Changer. Then when you're ready, sing your heart out.
*Microphone not included.
**Vocal sound is microphone volume for your own voice.


Double the Fun
Wireless Party Link

Wirelessly link two LG XBOOM ON9 to double the sound output. Bigger sound only means one thing — better parties and more fun.
Relive the Fun with Friends
Party Saver

Record your playlists and DJ mixes to USB so you can listen back to them at anytime. Copy them to another USB, or even send them to friends over Bluetooth®.
More Ways to Enjoy the Party
Connectivity

Plug in to the guitar input and get the room rocking. Or use the CD player and radio to play music.
Share Playlists on One App
Multi Bluetooth & XBOOM App

Pair three devices at the same time via the XBOOM App. Use any of the connected devices to seamlessly control a playlist with no interruption to music. Get it on the Google Play Store or the Apple App Store.
Feel the Excitement of a Live Performance
TV Sound Sync

Connect the ON9 to your LG TV via optical cable or Bluetooth® to experience more impressive, room-filing sound.
Key Features
Super Bass Boost - Powerful Sound the Party Will Feel
Multi-Colour Lighting - Light Up the Dance Floor
Party Strobe - Sync Your Smartphone with the Beat
DJ App - Spin the Decks from the Dance Floor
Karaoke Star - Sing It Loud and Clear
Party Saver - Relive the Fun with Friends
Included Accessories:

1 x Instruction Manual
1 x Warranty Card
1 x Remote Control Unit

2 x Remote Control Unit - Battery
Specs
EQ - User: Yes
EQ - Modes: 20 modes (Bass Blast)
Bluetooth: Yes

Dolby Audio: Yes

Woofer Unit: 8" x 2
Functions: FM/CD/DVD/Bluetooth/USB x2/Karaoke/DJ Pad/DJ Effects
Size - Speaker (WxHxD)
:
33.0 x 105.6 x 36.8
 cm
Packaging Size (WxHxD): 114.0 x 48.7 x 39.6 cm
Net Weight - Speaker
: 22.9 kgs